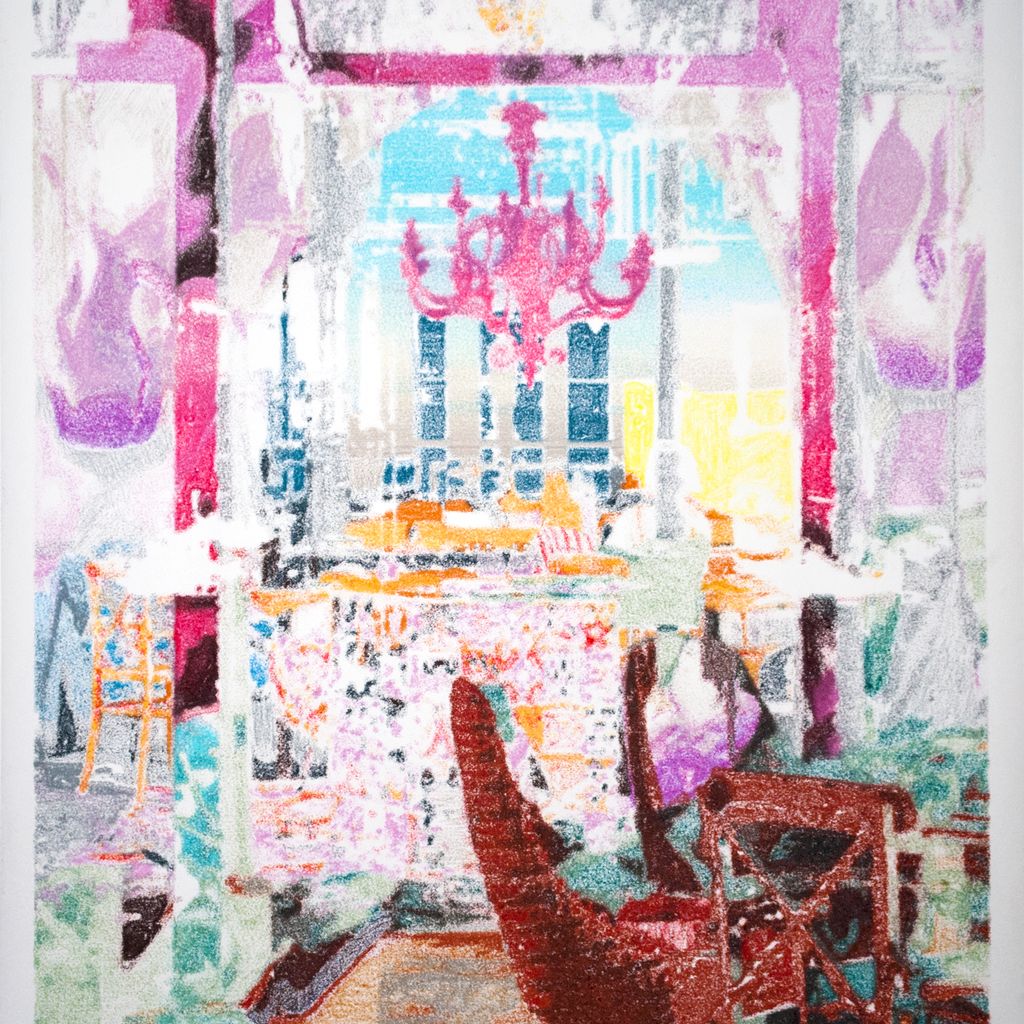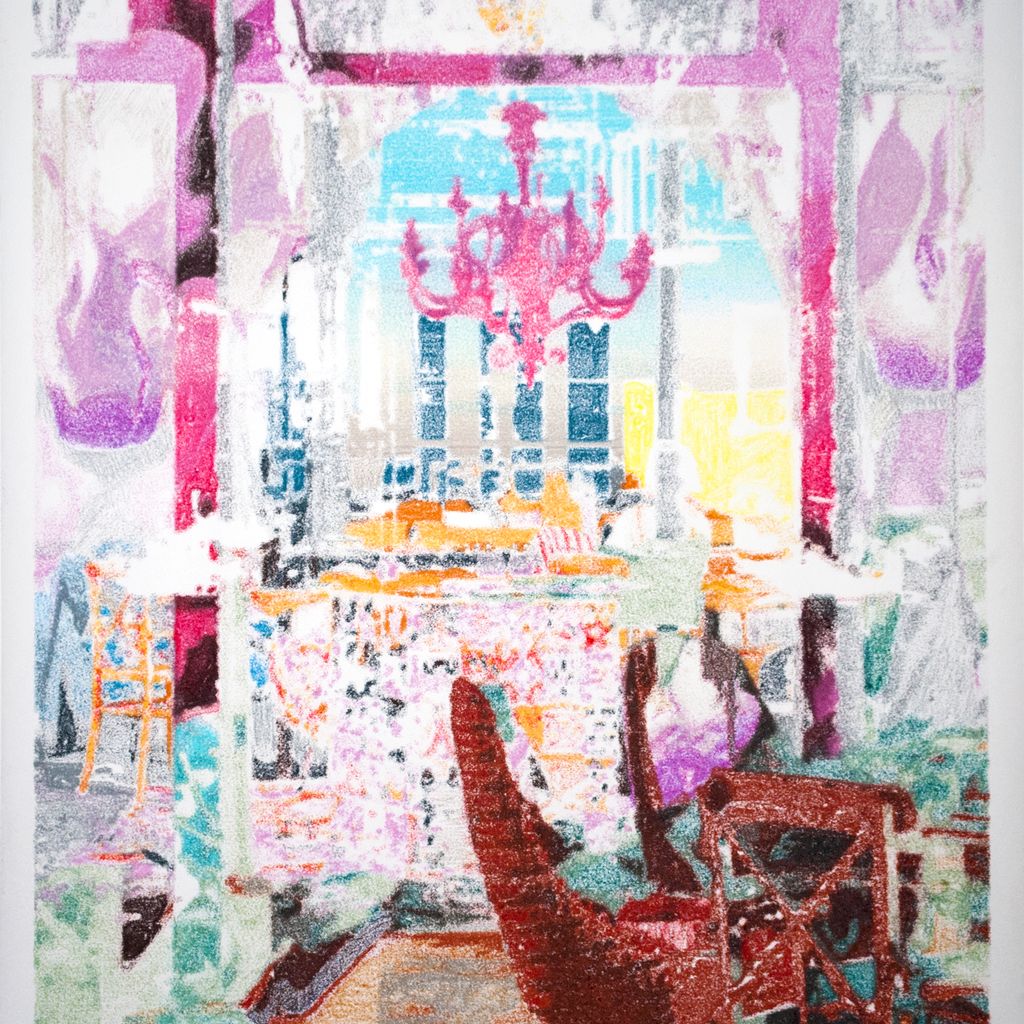 Darryl.Westly.&.Andrew.Ross
Mina/Port/Harbor
---
The two works Hadiqa/Jardin/Garden and Mina/Port/Harbor combine a visual vocabulary developed by Westly and Ross as influenced by the diverse architecture, flora and culture endemic to Beirut. In designing the initial studies for these pieces, Westly intertwined both photographs taken during his visit to the city in fall of 2016 in conjunction with images shared by news and mass media outlets before and in the present aftermath of the 2020 explosion.
Within Mina, pinks, reds, purples and turquoise greens form the outlines of cyclamen flowers, the national flower of Lebanon, while oranges, siennas and greys comprise the framework of an extruded interior space. If looked at closely, it is possible to glimpse the outline of a figure positioned slightly to the left of the center of the image. Bereft of any color her shape is defined through the interactions of the colors that surround her, most clearly the bright yellow that emerges from the background, disclosing the curve of her head and torso. That bright yellow and the blue that flanks it depicts the building that was the source of the August 4th explosion, captured years before during a sunny evening from the studio window of Beirut Art Residency. In this way the fragmentation of the interior reflects both the present state of Beirut as shaped by the explosion but also memory, experience and ultimately identity, as embodied by the cyclamen whose reds guide the eye throughout the composition to the central hanging chandelier.
For all editions sold, one third of the profits will go directly towards The Beirut Art Residency and its mission to provide aid to artists and communities affected by the Beirut blast.
Note: Mina is made to order and will be shipped in 2-3 months after the purchase date.
| | |
| --- | --- |
| Condition | New |
| Materials | Chalk pastel and graphite on Gampi paper |
---
Associated Experience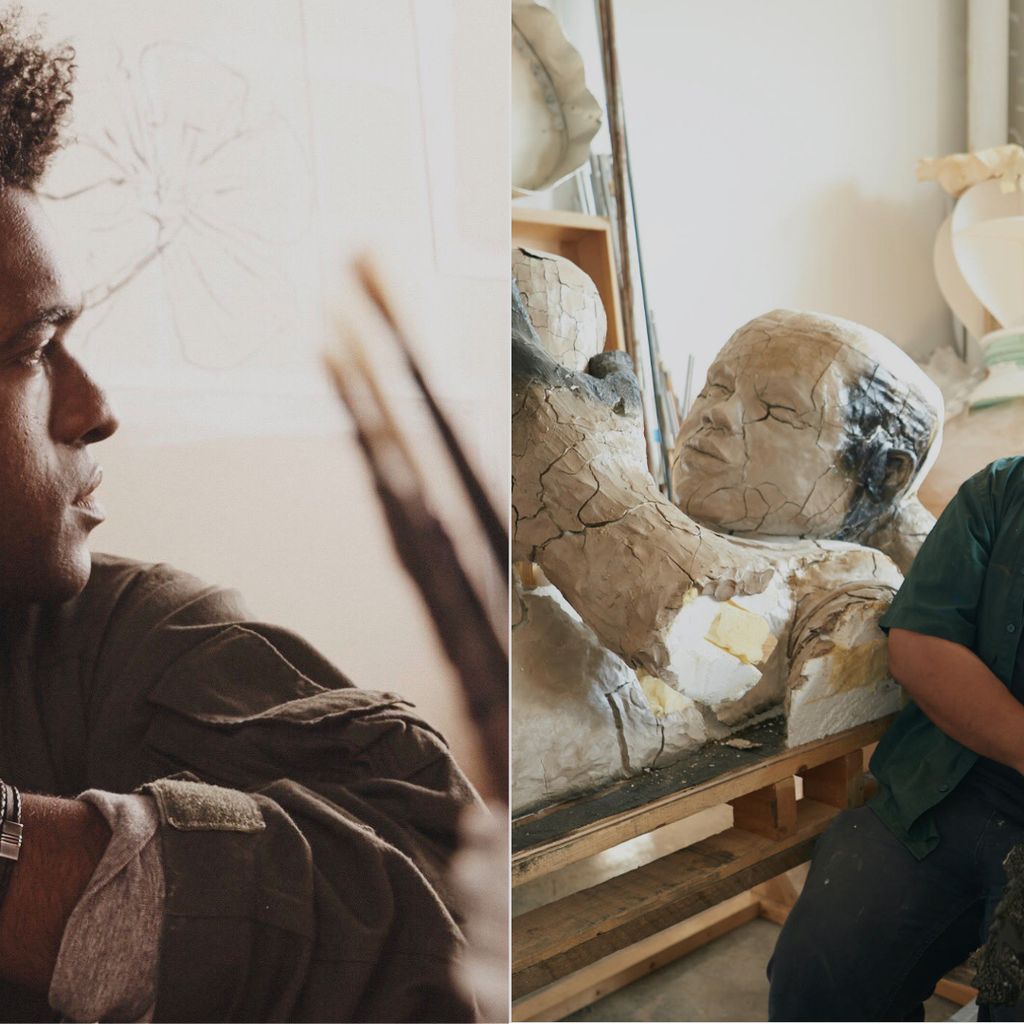 7x, Live from Beirut Art Residency